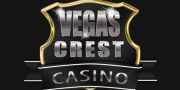 200% Up To €2,500 + 30 Free Spins
Bonus

Support

Games

Design
Online Casinos are popping up and shutting down on the web every day. Some survive the ravages of time (so far at least) and live long enough to become an online 'classic'. What these casinos have going for them is that they have to be doing something right, right? They wouldn't have survived the tough competition if they didn't. But every advantage has its disadvantage as we soon find out when we talk about VegasCrest Online Casino! Founded in 2014 by a company that is into gambling since way back in 1996!
First Impression
So let's get the disadvantage of a 1996 way of thinking (that of course has been updated numerous times, but still) out of the way: it looks a bit outdated. It's not bad looking, it's not like crucial information is missing… It just looks a bit rattled off compared to some of the newer casinos. Especially the large SEO text feels a bit unnecessary for a casino that is old enough to rank good in search engines anyway.
On the other hand, the footer is one of the most extensive we have ever seen. Filled with useful information and clickable hyperlinks. It confirms the feeling of being on a casino that knows it's stuff; so what if the visuals are a bit outdated!
Bonuses and Promotions
VegasCrest has a staggering welcome package of 100 free spins and up to €2500 (200% on your first deposit and 300% on your second deposit). But besides this enormous welcome bonus there are much more bonuses to enjoy such as sunny wednesdays and a special bonus with each season. Staying alive as a gambling organization since 1996 means you have to be generous and loyal to your players. We can only say VegasCrest delivers!
Collection
I know we are always a big fan of games from developers like NetEnt, and we still are, but it is refreshing to see some different titles once a while. VegasCrest offers some rare games from Vista Gaming and other lesser known developers that are well worth your time. If you are looking for a casino that has something different to offer than the usual suspects, VegasCrest Casino got over 800 titles(!) that you haven't played yet. Just like games from the known developers, there are good and bad titles among these 800. Make sure you do your research on payouts before playing a slots game!
Conclusion
The only complaints we have with VegasCrest is that there are withdrawal limits at $3000, and that the withdrawals take some time. That is a bit on the low side when you can get $2500 on welcome bonuses alone. This means that the casino isn't really suitable for highrollers. If you are a recreational player looking for a casino with different games than the once you see everywhere else, VegasCrest is just the casino for you. The support is good and so are the bonuses; give it a try!