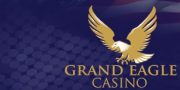 100% up to $300 1st Deposit Bonus, Bonus Code: FLYHIGH
Bonus

Support

Games

Design
What makes an online casino a good online casino? It seems quite difficult to really stand out as a casino since there are so many levels on which a casino can underperform. Players can be really critical, and will be if you let them down/wait in any way. If we turn this reasoning around, we could argue that there are a lot of ways in which an online casino can set itself apart by performing good on all those levels. Though you better do this right from the start, cause a stigma and a negative review are hard to get rid of once they appear online.
Grand Eagle Casino learned this the hard way! They have had some issues in the past with withdrawals and support, now they have to work twice as hard to convince people they have improved as a casino. Did they? Forget other, older reviews. This is the state of Grand Eagle Casino 2018.
First impression
Grand Eagle Casino looks okay, it's not the most interactive and flashy design, but it's certainly good enough for today's standards. Though the footer seems to be lacking some important information, though there are referrals. The pages they are referring to lack any design and layout, so it seems the homepage is a nice wrapper around an older website. We'd like to say more about the pages that contain games, but without an account we are not able to free play the games promoted. Which is a shame really. The first impression is that of a rattled of casino, unfortunately.
Bonuses and Promotions
Nothing wrong here, 100% up to €300 as a welcome bonus is nothing to sneeze at. To understand what 100% up to €300 exactly means we have to look in the terms and conditions, which are quite extensive. We advice all players to do the same before playing! Next to the welcome bonus Grand Eagle Casino has daily and weekly promotions, though here it is also difficult to determine what the bonuses exactly entail. It would seem that with a weeks worth of work Grand Eagle Casino could drastically improve the communication with their players. Finding a middle between a banner and extensive terms and conditions.
Game Collection
With around 150 games Grand Eagle Casino isn't the grandest eagle in the room, but it is by no means the smallest as well. It has quite some unique titles which make up for the modest quantity. Probably worth to mention, there are quite some progressive jackpots. The chance to become a millionaire out of the blue is always a big plus as far as we are concerned! The games run on BetOnSoft software, though there was no indication of this on the casino itself. We had to find this on another website.
In conclusion
One of the major complaints we read about Grand Eagle Casino was the response time of their support. We went and submitting a ticket for ourselves and it seems they really did improve here. After a few minutes we got into a live chat with one of their employees, answering our questions immediately. But is it enough to remove the stigma of a casino that doesn't go that extra mile for it's players? No it's not. It's a casino with potential, unique games and progressive slots; but they have to work on their communication and all over appearance to really compete with the bigger online casinos. Ultimately, it's for you to try out!